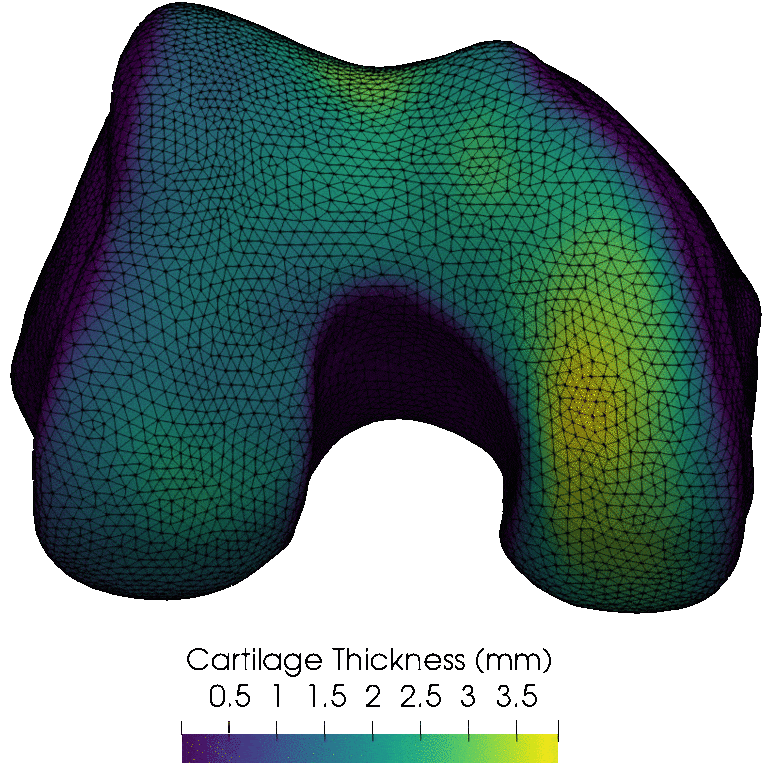 About me
I am a musculoskeletetal health researcher and entrepreneur. I am particularly passionate about developing novel tools to analyze biomechanical and medical imaging data to quantify the musculoskeletal system and leveraging those tools to provide novel insights. The above GIF exemplifies what I'm interested in - it is a visualization of a statistical shape model of bone shape and cartilage thickness (colorization) that I created.
Where I've been and what I'm doing now
MSc & PhD
I completed my MSc & PhD at McMaster University with Dr. Monica Maly as part of the Mobilize Clinical Biomechanics Laboratory. My theses quantified how knee cartilage responds to physical activities such as walking, running, and biking and was reported in the Globe & Mail. My PhD also provided novel insights about biking biomechanics to determine how bike-fit affects forces inside of the knee and generated a new equation to predict saddle height based on rider anthropometrics. I led and contributed to multiple other projects that you can see in my Publications.
Entrepreneurship
I've always been interested in entrepreneurship, driven by my academic research interests I developed, patented, and validated technology to automatically segment bones and cartilage from MRIs using deep learning and have been commercializing this technology through a company I founded, NeuralSeg. NeuralSeg has provided segmentation and image analysis services to researchers across Canada - I continue to collaborate with researchers to accelerate their research and improve their outcomes.
Day-to-Day
I'm currently a Postdoctoral Scholar at Stanford University working on the Digital Athlete Moonshot Project as part of the Wu Tsai Human Performance Alliance. At Stanford, I am co-advised by Drs. Akshay Chaudhari, Scott Delp, Garry Gold, and Jenn Hicks. These researchers are world leaders in medical imaging, biomechanics, and machine learning. Together, we are advancing state-of-the-art methods to measure the musculoskeletal system and to improve our understanding of it through biomechanical simulations.
This site
Aside from being an online/living CV, I plan to use this site to contribute blog posts / tutorials on quantitative methods at the intersection of biomechanics, medical imaging, and machine learning - I have a few ideas in mind that I'll work on in the weeks ahead. The GIF at the top of the page should give you a good idea of the types of things I'll be trying to explore. Check back soon if that is of interest!